Anz Daffodil Day
For over 27 years, ANZ has been involved with Daffodil Day for the Cancer Society New Zealand and with over 22,000 Kiwis getting diagnosed with cancer each year it's crucial that New Zealanders continue to donate and support this cause.  However, each year it seems harder and harder to collect cash, not because people do not want to help but because we have become such a cashless society.
The Brief
So ANZ came to us with a challenge, over a short time frame, to create a unique and engaging way to drive participation/donations for such a great cause. The brief said it had to be:
functional, simple to use, reliable and provide a great user experience
a tool to help ambassadors on the day engage with the public and tell the story of the great work behind the scenes

a platform that enables ANZ to showcase its technology and innovative thinking

a nod to the fact that charity collectors do a fantastic job raising funds and how we understand that we need to keep pace with technology to ensure their efforts aren't wasted in such a cashless society.
The Solution
We came up with a solution that integrated ANZ's tap & pay technology with the iconic Daffodil that represents Cancer Awareness Day around the country. We created a concept that was instantly recognisable, eye catching and bold.
These handheld daffodil units had to be functional and easy for staff to use. We encompassed all of this in the design, making the stem of the daffodils the handhold and ensuring the materials we used were lightweight but strong; after all, the users would be holding it for long periods of time.
Brand Productions created 10 Daffodil donation units which charity collectors used on the day. These  'tap & donate' daffodils helped staff raise awareness across a number of Auckland branches as well as providing an easy, hassle free, cashless way for the public to donate and put their support behind the Cancer Society.
In a short lead time Brand Productions created the concept, designed the solution and manufactured the units exceeding all the clients' expectations.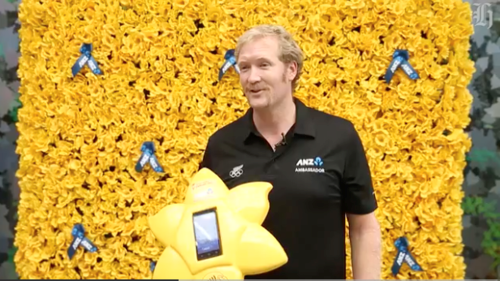 Did you know?
WE RUN TRANS-TASMAN CAMPAIGNS
We work with our sister company in Sydney to deliver truly Trans Tasman campaigns. The combined team will take care of all the production,  project management and logistics in both New Zealand and Australia, ensuring your budget is optimised and your stress levels are reduced!