ANZ Dream Big
ANZ Dream Big Campaign returns for 2017 to help the next generation realise their sporting dreams.
The campaign helps community sports clubs, initiatives and players achieve their dreams and promote the development of New Zealand's young sporting talent.
This year ANZ are continuing to support NZ Premiership Netball. Pre-game a stand was to be set up in the stadium foyer and children were encouraged to write down their sporting dreams. At half time the Dream Machine would come onto the court and prizes would be given out to some lucky winners. 
The Brief
Our brief was to create a 'Dream Machine' that was impactful and get everyone's attention.
The requirements were quite specific:
●       Provide storage for prizes which were easily accessible and could be viewed
●       Create a fun and impactful experience that captured attention
●       Portable and easy to manoeuvre
●       Impressive yet subtle branding
The Solution
Having already been utilised across the ANZ Sponsorship of NZ Cricket the vendor bike was the perfect solution that would not only be eye catching but also easy to move around the stadium and courts. Our super versatile vendor bikes, which are perfect for experiential activations, provided us with the ideal base model. We adapted the design and added branding so that the bike could carry products and prizes.
The bike was ANZ branded with stunning glitzy graphics, LED Lit wheels, pompoms and a flag off the back to attract more attention. A prize drop-bin was designed for the front of the bike which gave brand ambassadors easy access to prizes and ensured the public could see the giveaways.
The bike can be ridden onto and around the court giving all sides of the stadium a chance to be involved with and see the 'Dream Machine'.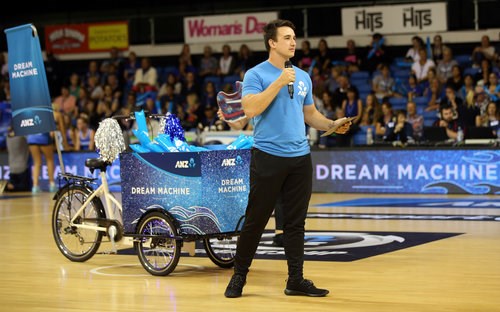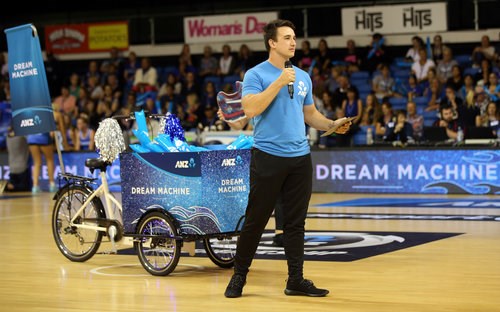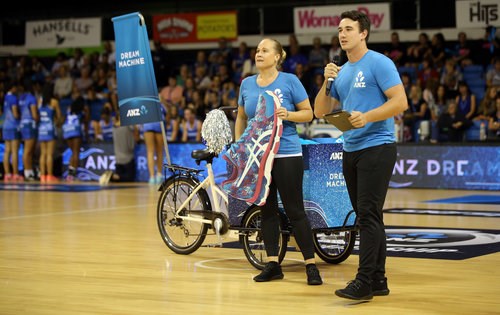 Did you know?
WE RUN TRANS-TASMAN CAMPAIGNS
We work with our sister company in Sydney to deliver truly Trans Tasman campaigns. The combined team will take care of all the production,  project management and logistics in both New Zealand and Australia, ensuring your budget is optimised and your stress levels are reduced!