Hyundai Fieldays
Hyundai is one of the World's fastest growing and most innovative automotive brands and has a great selection of cars for the NZ market. They are also the main sponsor for the longest running TV series 'Country Calendar'. So it makes absolute sense that they should have one of the most prominent sites in the centre of the showground at this year's Fieldays.
Fieldays is one of the biggest events of the year for many companies and Hyundai have long been one of the key sponsors of NZ's largest Agricultural event. In fact, it's the biggest event of the year on the sales calendar for them and with the opportunity to showcase the whole range of vehicles to every type of consumer, you can see why.
The Brief
Hyundai approached us with a brief that was to create an area within Fieldays that would showcase not only the brand but also the range of vehicles. It had to:
Depict the vehicles and brand in the best possible way

Create strong brand awareness across the area

Have a high level of visibility from inside Mystery Creek

Create and produce large scale internal branding

Produce collateral that can be used across multiple events for years to come
The Solution
We came up with a solution that not only integrated their brand; it created an area that could be seen from afar. With huge sky banners to add high level visibility and a number of BrandFrame fabric skins, we were able to create a solution that could be used time and time again.
Because the stand was in such a big area we had to come up with a large scale solution that would create a wow factor. The fabric BrandFrame product fitted the bill and due to its versatility enabled us to create a look and feel that was on brand and on budget. The BrandFrames were constructed on a high quality, lightweight aluminium which is easily assembled and has the added flexibility of being able to be attached to almost any surface. It provided clean, seamless and vibrant imagery which not only looked impressive but also attracted attention with one being an impressive 17m long!
Overall, the Hyundai area had a massive 200 square metres of print and a whole lot of visibility. The solution enabled Hyundai to appeal to all markets and all the elements provided can be re-skinned and used again throughout the years.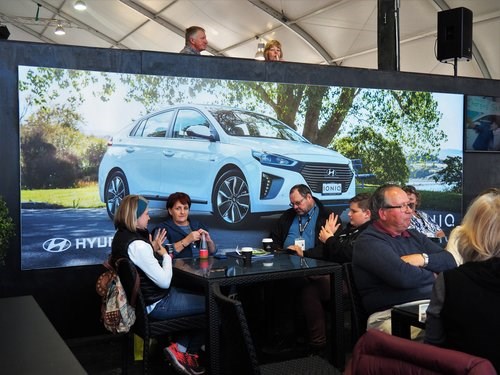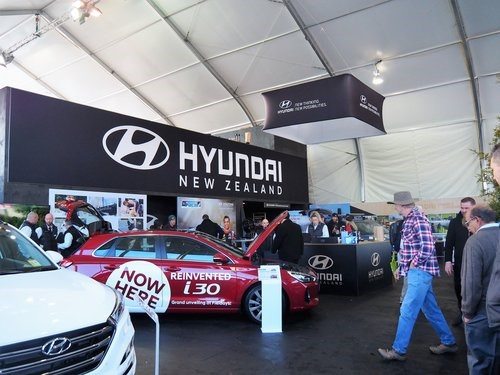 Did you know?
WE RUN TRANS-TASMAN CAMPAIGNS
We work with our sister company in Sydney to deliver truly Trans Tasman campaigns. The combined team will take care of all the production,  project management and logistics in both New Zealand and Australia, ensuring your budget is optimised and your stress levels are reduced!