Panasonic Barber's Booth
Panasonic have a large range of products from home appliances right through to personal care and health. For this project we were asked to look at the personal care range, showcasing their shaving products. 
Panasonic needed an interesting and different way to display these products, a step up from the simple retail shelving that had been used previously.  The display would be used for upcoming retailer events and for display in their HQ showroom.
Challenge
Our challenge was to create a space that showcased the complete shaver range in a fun creative way. It could either be a display stand or booth, and it needed be something that would draw attention to the whole range of shavers and display them well. 
We also had to design a simple sleek stand that could be used to display each individual shaver within the display, and be interchangeable with the rest of the personal care range.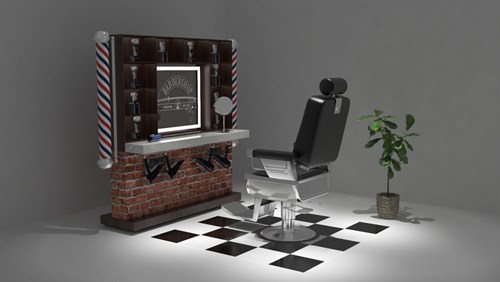 Render of Barber's Booth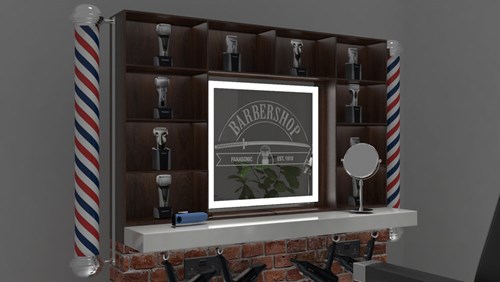 Render of LED Lit Mirror and Individual Stands
Solution
Our design team took the brief and came up with the idea of creating a booth display based on an old-fashioned barber shop. The cabinetry was dark oak with an exposed brick look feature underneath. We added illuminated, rotating barber poles on either side of the unit to give it an authentic look and feel. LED lights surrounded the mirror and we created a frosted Panasonic barber shop decal for the centre.
For this stand to function properly we had to ensure that there was power to the booth so all the items could be charged and demonstrated easily. These cords needed to be hidden within the cabinetry but at the same time be easy to change out should the need arise.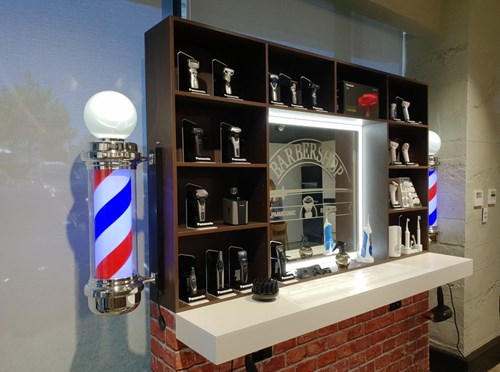 It was also important that this stand was portable and had the ability to move around the different showrooms at HQ or even be taken off site. To do this we were able to put the whole booth on castors making it easy to move and lock into place. 
The individual stands were produced in white and black acrylic and designed to not only be interchangeable with the rest of the personal care range, but to look sleek and hold each product in place firmly.
To finish off the look of the booth we also incorporated a barber's chair (Panasonic already had this) and a chequered mat.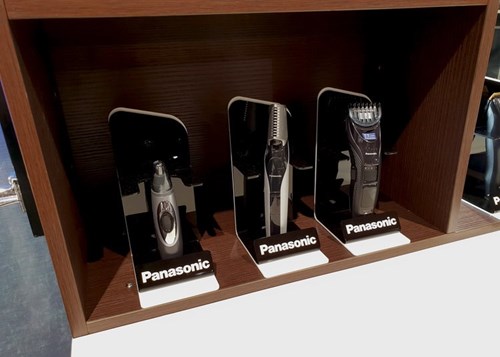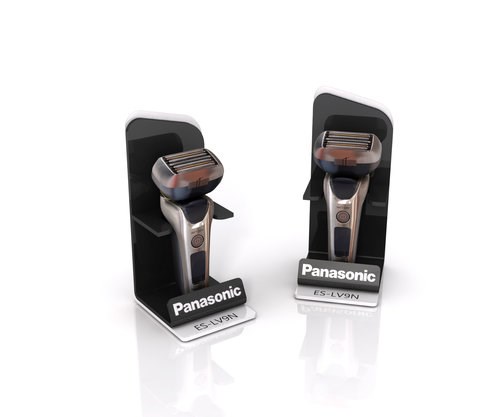 Render of Custom Designed Razor Stands
We received lots of positive feedback from the Panasonic team:

"It went down really well, the retailers loved it!"

Lynda-Anne Bodger | GM Marketing & Business Projects
Did you know?
WE RUN TRANS-TASMAN CAMPAIGNS
We work with our sister company in Sydney to deliver truly Trans Tasman campaigns. The combined team will take care of all the production,  project management and logistics in both New Zealand and Australia, ensuring your budget is optimised and your stress levels are reduced!