Panasonic Centennial Showroom
Panasonic are a well-known brand in NZ offering a range of consumer electronics and business solutions. They approached Brand Productions as they wanted to create a space to showcase a range of products in their Head Office. The products had to be displayed in an attractive and functional way. In particular they wanted to:
o   Demonstrate the VRF smart connectivity system and how it interacts with their range of air conditioning units.
o   Showcase their electronic shelf labelling system.
o   Have space within the room for seminars and demonstrations for groups.

                                                                          Original sketch for whole showroom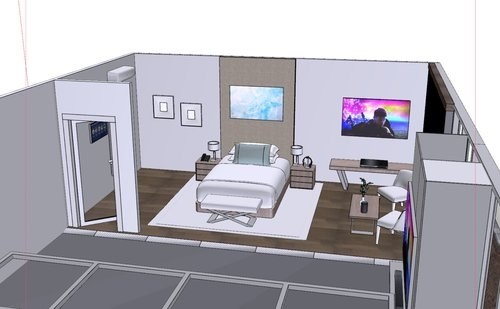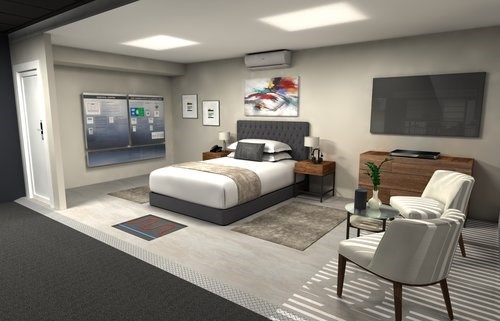 Sketch of room                                                                                    Render of room
Challenge
As with all custom briefs we sat down with the client and discussed in detail what their vision was and what they wanted to achieve from the showroom. It was imperative at this stage that we understood exactly what products they wanted to display so we could design a showroom that showcased them all. 
Due to the variety of products Panasonic wanted to include in the space, we needed to design different areas within the rooms to give the products context and to display them at their best.  
In addition to this, we also wanted the showroom to be modern, fresh and work as a functional space for meeting and seminars. 
Solution
Given the challenges and products we had to display, we divided the showroom into two main zones. This enabled us to showcase the products in different environments giving visitors a more relatable experience. 
The two areas were divided by raised flooring. One end of the showroom was designed as a motel room and the other a retail environment. The air conditioning unit displays took up the area in between. 
The motel room was set up in the style of a real apartment, complete with a bed, coffee table and pictures on the wall. The idea was to show how the intelligent room controller worked with all the systems in this environment. It was complete with a doorway that included a video entry system, and a control system panel housing the VHF connectivity units and displaying accessories for the air conditioning units such as grills and ducts. It also included a panel in the flooring that was designed with red and blue LED lighting to demonstrate how the air to water system worked. We programmed the lighting to highlight how the hot water left the system and the cooled water returned to it.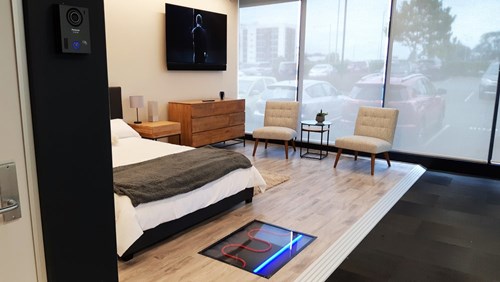 The opposite side of the room was designed to represent a shop environment. This included a slatwall system to display smaller Panasonic items, and cabinetry to house some of the fridges. A custom leaner and chairs in this area also meant that the space could be used for smaller group sessions and meetings.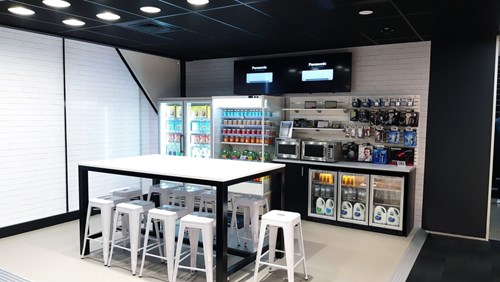 The central showroom space was left open in order to accommodate large groups and seminars. An LED screen for group presentations was mounted to a custom built cabinet, which was designed to fit around an existing pillar. The wall space in this area was where the main air conditioning units were displayed. These bespoke units were a complex design and build; they had a steel frame which was then clad with melteca and fully branded. It included a lightbox header and LED lighting around the edge to make each unit stand out. 
The use of colour and clean lines gave the whole showroom a modern sleek look that has become a space that Panasonic can use on a daily basis for meetings or as an impressive showcase of products for clientele.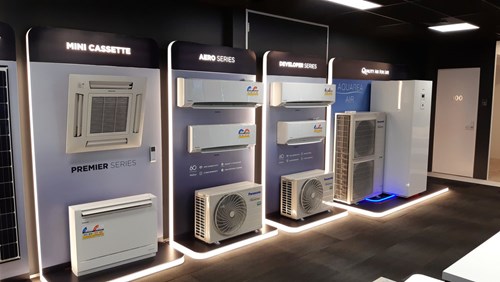 Did you know?
WE RUN TRANS-TASMAN CAMPAIGNS
We work with our sister company in Sydney to deliver truly Trans Tasman campaigns. The combined team will take care of all the production,  project management and logistics in both New Zealand and Australia, ensuring your budget is optimised and your stress levels are reduced!