Our new Superwall Display System sets the benchmark in flexibility and portability. Finally, create the stand YOU want and imagine without the constraints of a modular system and magnetic graphics panels. Now you can have any shape you want, any height you want and any graphics you want. All your display needs can be catered for in one system.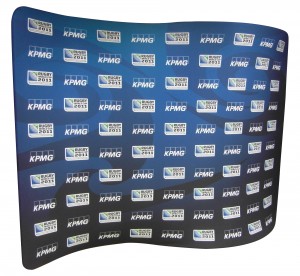 The SuperWall display system has arrived and is changing the way we build and create display stands. Remember how you used to have to match up the panels on your display walls to get them all straight? No longer necessary. Remember how you used to worry about scuffing your panels and how expensive they were to replace and keep clean? No longer an issue. Remember how you used to have to work your design into the panel system you were buying into, and when you turned up at a conference, all the others stands looked similar? Not any more.
We 're so confident in the construction of these stands that they all come with a 5-year hardware warranty.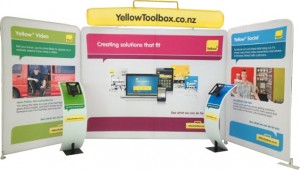 5 Reasons to Choose the SuperWall Display System
There are 5 reasons why choosing the Superwall Display System is a sensible choice.

super lightweight
The future of large affordable marketing displays is here.
The Superwall Display System is built with simple and lightweight aluminium tubing that's incredibly strong. It's also a snap-lock system so no need to drag your toolbox with you! Over the top of the tubing goes a wrinkle-resistant polyester fabric graphic print. This is unobtrusively zipped into place in order to get tension all around the fabric. The end result is a flat, wrinkle-free look that really stands out from the crowd.
All the display elements are supplied in a heavy-duty bag, so it's easy to transport and simple to keep all the parts together. And if you trade up to a hard shipping case, then the case actually doubles as a branded podium too!
Being so lightweight also means these display stands are unbelievably easy to put up and dismantle. It literally takes only minutes to snap together the frame and then pull over the fabric sleeve.
In the old days, your spider frame magnetic display wall weighed around 40kg, but with the New Superwall Display System, that's more like 10kg! That means cheaper freight, easier installation, and a whole lot less stress!

interchangeable machine washable fabric graphics
Get that brand new look every time.
The Superwall Display System uses fabric graphics panels which can be washed after every use; they'll still look fresh and new, even after a year of use. Literally pull the fabric out the bag and throw it in the washing machine on a cold wash. Or better still, take it down to the laundrette for a service wash!
Because they're fabric, repairs and small nicks can be repaired easily and quickly by us.

environmentally friendly
Exhibition and eco-friendly
Be happy that the System you've chosen is as environmentally friendly as possible.
it's lightweight and easily transportable, cutting down on freight costs and your carbon footprint
it's printed using a dye-sublimation process which is recognised globally as the most eco-friendly printing process
it's washable and re-usable year after year, so your small carbon footprint is at least spread over many years of use
we light up your stand with low draw LED lights

flexible & modular system
A solution for all your needs.
In the past, your imagination tended to be constrained by modular display systems, but those days are gone. Our new Superwall Display System features both off-the-shelf and custom options, so you can create anything you like. We simply cut and bend the aluminium framing to the shape you need, then cut and sew the fabric to that shape, before printing your graphics. Take a look at some of our recent case studies to see the limitless possibilities.
We have a huge range of off the shelf fabric components and options, so it's easy to find the right solution.
various wall sizes and shapes
various counter sizes and shapes
single or double-sided print options
various LED lighting options
storage case options which double as counters or podiums
multimedia display options, with integrated TV mounts and iPad display options
Our fabric graphics panels can all be printed on both sides, so no need for your stand to be shy and stand against a wall! Enjoy the freedom of exhibiting in the best areas, not merely the areas that are suitable for your stand design.
We all know things change over time, so when you need to change out some of the graphics, we simply print the fabric again, ready to fit over your existing framing. It's a really cost-effective way to invest in a stand, but keep the content up to date and fresh. Check out our special offer too!

high impact graphics
You want your display stand to stop people in their tracks, you want it to make an impact. The new Superwall Display System is one of the most impactful displays we've ever seen, and here's why.
the panels and walls can be made very tall, so you can own your stand space
we have the option to use flat or curved walls, or even create a bespoke finish, so you can fit your space effectively but also differentiate yourself from your competitors
all the stand elements you use are consistent in look and feel, so the overall effect is stunning
the fabric printing process we use is simply incredible, so your message really pops out
the wide choice of lighting options mean we can deal with even the trickiest of venues
The Choice is yours.
The SuperWall Display system consists of an incredible range of items, shapes and sizes. Take for instance our Display Walls. You have the following options available to you:
Corners – choose from radial or square corners
Top – choose from curved or straight top edges
Shape – choose from s-shaped, concave, convex, extra long, or simply straight.
If we look at complete exhibition solutions then you can choose from a vast array of set-ups and accessories. One solution provides many options because various modules that make up the full stand can be used in various ways.
The SuperWall system comes with perhaps New Zealand's widest array of accessories, allowing you to build and integrate all the elements you need into your stand. Or relax in the knowledge that you can continue to invest and grow your stand over time, as your needs change, using a system that is consistent throughout all elements.
Just Imagine. A truly CUSTOM display.
The SuperWall System lends itself to bespoke creations. We can cut fabric and bend aluminium to create a very personalised, bespoke display, whilst still keeping it incredibly lightweight and easy to transport.
With the Superwall Display System we can create almost anything. So talk to us, show us what you're after, and we'll deliver it; on budget, on time and just as you imagined it.
It's a simple journey, but an important one to get right.
first | We listen, and talk, and listen some more. It's important to fully understand what it is your thinking of and what it is your trying to do with your display stand.
second | We brief our designers so that we can take all those words and turn them into a picture because we all know that a picture tells a thousand words. We work with some amazing 3d designers to create our display and exhibition stands because it's important to understand the movement of people through the stand and the journey they are being taken on. 3d designers understand lighting, engineering and functionality, unlike a graphic designer.
third | We project manage the production, the graphic artwork and then the installation, keeping it all on time AND in the budget.
We'd love to show you our stands and demonstrate just how amazing they are.
Call us now on 0800 10 99 88.