Pop up banners, sometimes referred to as pull up banners or banner stands, are simple cost-effective display solutions.
A long graphic sheet rolls up and down into a base unit. The unit can be easily transported and then the graphic rolled out from the base, when required, and held aloft.
Pull up banners are perfect for creating impact at any event because they're inexpensive to buy and once up, provide high branding in a small amount of space. They work incredibly well, too, when more than one are placed together with complementary messaging. Because of the size, they can be used to fit any sized room and their portability means they can be placed anywhere.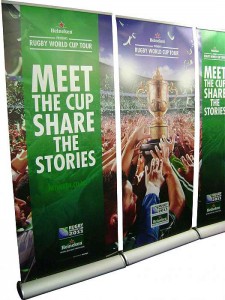 These banners can be used outside or inside and are best placed in areas of high traffic flow to draw attention to your business, brand or service.
There are a number of types of pull up banners, with base units and graphic sheets made from differing materials. Prices vary dramatically but it's often a case of "you get what you pay for". At Brandstand, we stock a wide range of these pull-up banners, which you can see here. We only stock pull up banners where the graphics panels can be easily interchanged and replaced. Our pop banners differ from many in that the build quality is far superior. They are commercial grade and designed to last. This explains why we sell our pull up banners with a 5-year warranty.
Anytime you wish to replace or update the graphics on a pull up banner bought from Brandstand, then we're there to print your artwork quickly and easily, because we have your original sale on our database – we know the size you require and can provide the level of service you should expect from one of New Zealand's biggest Display companies.
So let's explore the different kinds of pull up banners available from Brandstand.
The Premier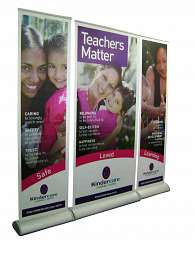 Our most popular banner stand is the Premier because it's commercial grade and comes with various options. Let's see what makes it our biggest seller:
5-year warranty
Durable padded bag
3 width options – 500mm, 850mm and 1200mm
Any height option
Eco Skin option for actual banner, eliminating any curl and reflection
Easily replaceable banner
Lighting kit available
The Promo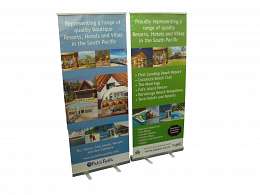 This is our most cost-effective yet reliable pull up banner stand is The Promo bannerstand. It's super lightweight and is meant for infrequent use. It's ideal for anyone that wants a simple, cheaper banner solution that will be used a handful of times a year.
There are various height and width options available. And right now this product is on special at $289.
The Express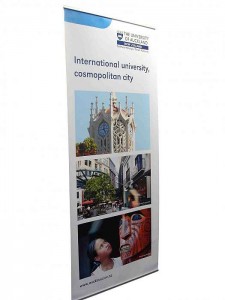 When simplicity is key, then The Express pull up bannerstand is your solution. There's very little hardware so the focus is all on your messaging, plus these can easily be placed side-by-side to create a cost-effective display wall.
The Express is the lightest unit in the market, making it easy and cheap to freight around. Let's take a closer look:
Lightest unit on the market
Comes with padded carry bag
5-year hardware warranty
Options Available: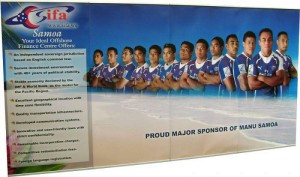 Multiple heights and widths
Eco-friendly skin to reduce curl and reflection
Velcro receptive options for easier change-outs
Hire options
Lighting kits
The Icon

All we can say about this one is WOW! If you want to stand out from the crowd then The Icon pop up banner stand is the best option available in the market. It's a fabric banner stand available in 3 shapes and 2 heights. The fabric stretches over a light aluminium frame which comes with a 5-year warranty.
Unlike any of our other banner stands, The Icon can be printed both sides and therefore doesn't need to be placed against a wall. It's a super lightweight product supplied with a durable bag. The fabric skin can be machine washed to look perfect every time it's used.
Options Available:
3 shapes
2 heights
Shelving options
Catalogue display options
Lighting kits
Considerations
There are many, many banners stands on the market and many 'deals' to be had. We see many offers online and in our email inboxes. But we also hear about them from customers that thought they were getting a bargain. There are 2 potential issues with buying cheap:
The hardware fails through poor manufacture/engineering
The graphics skins reflect light badly or curl so the image on them fails to create any impact and becomes unreadable.
When you buy cheap from a 'deal' site, remember that it's often hard to follow up and complain when the product breaks or disappoints. Often they're simply interested in the sale, not the service. And this is where Brandstand is different.
Many of our bannerstands come with a 5-year warranty and have stood the test of time with hundreds of happy customers. Our banner stands are offered with many, many options so that you get the perfect solution for your needs. With so many choices available on our shelves, we're able to guide our customers to purchase the right solution, not simply the cheapest.
Give us a call now on 0800 10 99 88 or drop us a line for a free quote.