It's that time of year again when the Summer becomes a blissful memory and Winter kicks in with a busy schedule of exhibiting at Fielddays and Food Shows. The endless smiles, as your staff, talk to potential customers about how good your products are and why they should buy them. You take the best of the best and showcase them along with your brand to stand out from the crowd. But do you? Stand out from the crowd that is? Or are your graphics and your stand looking a bit faded and outdated. It's not too late with Fieldays running from the 10-13th June and the Auckland Food Show from 30th July – 2 August – we can help!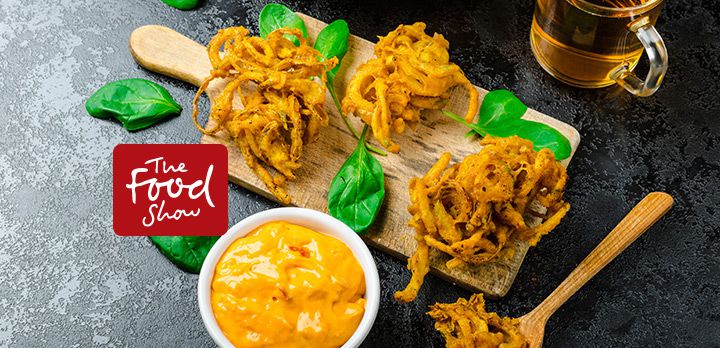 At Brandstand we have a wide range of stands and display equipment to help you stand out from the crowd. We also have a great service team to help you decide what you need and to have it to you ready for your next event.
As with everything these days technology is constantly changing and bringing us new ideas and ways of doing things. You no longer have to spend hours constructing a stand – our SuperWalls can be erected in 90 seconds! You do not have to buy a complete new bannerstand when your graphics have faded or your message is no longer correct – just order a new graphic and swap it out in minutes. It no longer has to cost the earth to create a booth at the Food Show – Brandstand has a solution that grows with your needs allowing you to start small and add pieces as and when you need them.
Let's take a look at what is available:
SuperWalls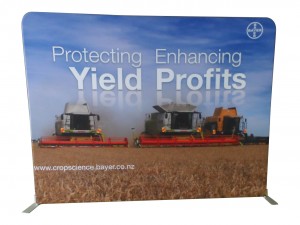 We have a wide selection of SuperWalls that come in all shapes and sizes ideal for a backdrop or a mural at a field day or show. The walls are made from aluminium poles and have a fabric sleeve that simply slips over the frame and is zipped up creating a no crease image to really attract attention. The image can be double-sided giving you more room for your message and can be constructed in 90 seconds. It's also portable and lightweight (only 12kg) making it easy to shift from one field day to another.
Exhibition Solutions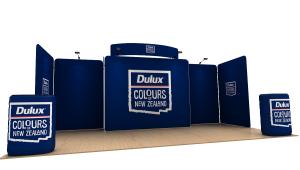 This modular system allows scalability and multi-use functionality. Start off small, and then grow as your needs grow. Use the same kit in different spaces simply by re-configuring your existing items. Take a look here.
Bannerstands
There are a large variety of bannerstands in the marketplace and each one is made for purpose, so make sure you choose the right one for you. If that statement makes you cringe and throw your hands up in the air as they all look the same then just pick up the phone and give one of our friendly staff a call. They have years of experience and can guide you through the right choice. The 3 best-sellers are:
Pull Up Banner Stand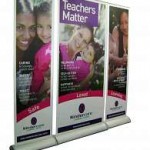 A retractable pull up bannerstand that is functional and easy to use. Simply pull and hook the retractable spring in place and you are ready to go. With a 5 year warranty, you can change your graphics when you need making this an economical purchase.
Icon Bannerstand
The Icon portable display banner has more style and impact than other stands, with 3 different shapes to choose from it certainly makes you stand out from the masses. Its fabric sleeve makes it lightweight and easy to carry, plus there are no tools so easy to assemble. It can also double up as a leaflet stand with additional accessories such as shelves or leaflet holders making this more than just a banner.
Express Bannerstand
A single post support, roll up banner featuring 100% viewable image. It's easy-to-assemble and very economical. Join multiple banners together to create a single, display wall with maximum portability.
Flags
There are several different flags on the market and let's be honest they all flutter in the wind and attract attention. But if you want your flag to have the brightest image, to not fray after one event and to stay standing and not be blown over by the wind, then Brandstand is the place to come. We have an impressive array of flags but we also have the hardware to go with it. Whether you need a flat base plate or a ground spike we have it all. So what is the difference in flags? Here's a quick summary: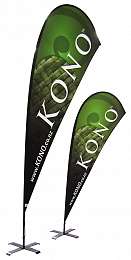 Tear Drop
A versatile and portable flag system in the shape of a tear, hence it's name. It's proven to grab attention in any environment with minimum flutter noise.
Windblade
A large vibrant blade shaped flag ideal for displaying more information and attracting attention at trade shows, field days, corporate and sporting events.
Giant Flag
An impressive 5.2m telescopic pole to give you maximum impact. A huge image area to get the message across.
Demonstration Tables and Counters
Every stand needs somewhere to put something on, be it leaflets, a cup of coffee or product samples so make sure you know it's purpose and get the right size for the job. Tables and counters are often made to your requirements so if you need a food preparation top then just tell us and we can make that happen.
Superlight Demo Table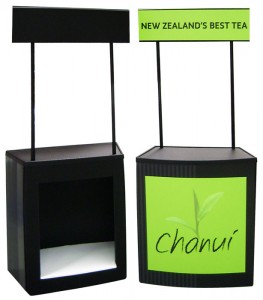 Our most popular demo table for use as a sales station or sampling table, ideal for the food show when you are handing out all those yummy treats.
Presenter Table
This table is compact and ideal for wine tasting or places where you do not want to take up much space. It's incredibly easy to assemble and folds flat so can easily fit in the back of your car.
This is just a small array of display products you can choose from and of course, we can custom make anything you can imagine.
Please either give us a call on 0800 10 99 88 to discuss your requirements or if you're in Auckland why not pop into our showroom for a no-obligation demo of our products.