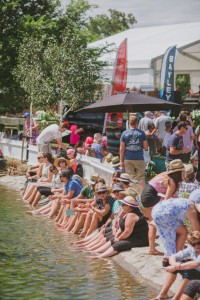 More and more brands are realising the importance of sponsorships and brand engagement in leveraging and emotional connection with their brand. A recent article in Event magazine in the UK highlighted that a rising number of brands are looking to increase their use of experiential and events channels this year – a 54% lift on 2014.
Here in New Zealand we're seeing an increasing number of events, festivals, shows and outdoor activities, not only music festivals but also food and wine festivals too. The weather forecasters are telling us its going to be a long hot summer, so these events are likely to be well attended.
It's important that brands ensure that they connect well with such events and sponsorships, ensuring participants connect their 'good times' with the brand, and this comes down to impactful branded display.
Brandstand has a huge range of branded display options, perfect for use both outdoors and in, and robust enough to take all that our weather can throw at it. Our team have built entire event solutions, sampling booths and experiential campaigns for brands like Russian Vodka, sampling in the mountains of South Island, and Giant, displaying their range of bikes at mountain bike parks around the country.
So why not give us a call to discuss what you need this Summer on 0800 10 99 88.