Trends in technology and materials change all the time in the display industry. As a business, we pride ourselves on keeping an eye on the industry and bringing new display products to New Zealand. We would like to introduce our latest portable displays, LEDGO and YOUGO.
The rise in SEG displays
Globally we are seeing more and more companies using Silicone Edge Graphics [SEG], or soft graphics, to create super-easy to set up fabric displays. It makes sense, given that these fabric panels don't need zips or other fastenings to maintain the stretch of the fabric. SEG display units simply have a silicone edge that inserts into an aluminium extrusion.
Let there be light
Display companies throughout the world compete to increase the impact of their displays, whether through new print techniques, bigger displays or lighting. The latter used to be expensive and often created light spots rather than a nice broad light distribution. With LED lighting came the opportunity to deliver a low draw, small footprint, even light distribution but at a cost. As demand has increased, so the price of LED lights has decreased. Some light manufacturers no longer even produce non-LED bulbs!
With LED lighting, display manufacturers are now able to deliver fully lit display solutions. These can be either mains or battery-powered, and have the lights set into the thin extrusion. This has never been better delivered than within the LEDGO Brandframe Silicone Edge Graphic display.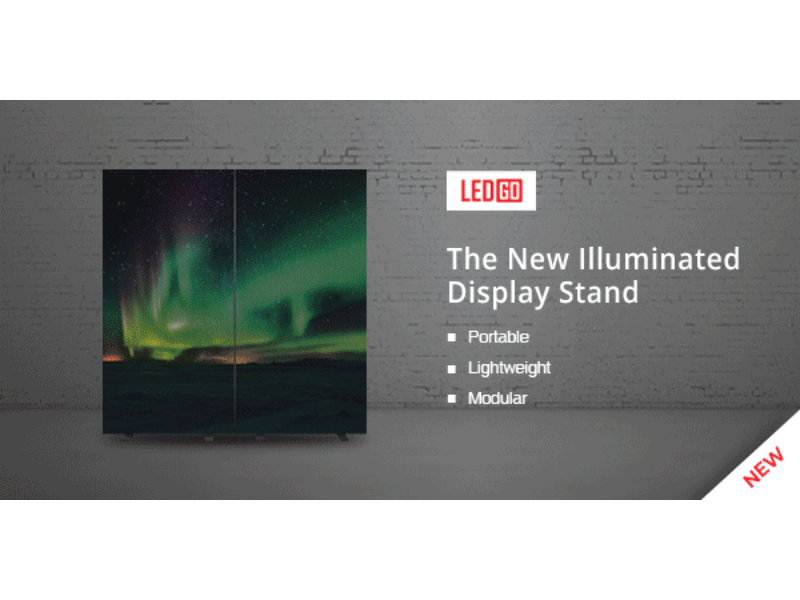 The future of illuminated display
Taking banner stands to the next level, these displays are lightweight, stable, stylish and, most importantly, easy to assemble. Consisting of just seven parts, they can be quickly assembled without tools – the perfect fast and simple solution to your display needs. Both options are surprisingly light with a display of 100x200cm weighing in at just 8.7kg! That means it can be transported in your carry-on allowance!
These displays are best described as a banner stand and lightbox, all rolled into one. They consist of components that can be easily configured for different display options and needs – be it for your Point of Sale display, at a tradeshow, as an advertising board or for customer traffic guidance systems. They can be displayed on their own or they can be used as a modular system making a much bigger display. As you can see below, several can be put together to create a wall. End panels can be turned 90 degrees too, depending on the look you want or the area you have to display in.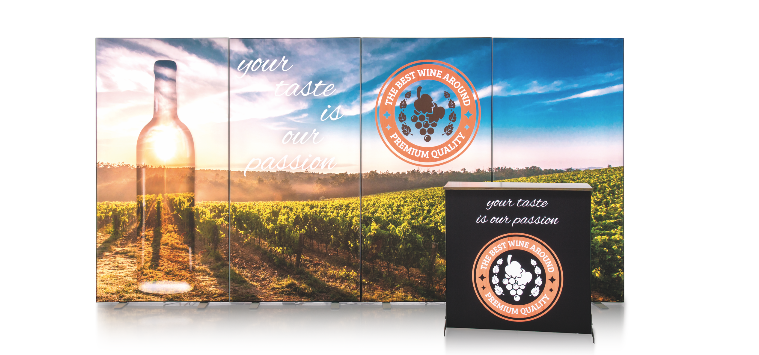 There are two options in this range, the YOUGO and the LEDGO. The basics of the product are the same but the LEDGO is an illuminated stand, featuring LED lights set into the frame and sitting behind the fabric. Both stands use pre-assembled base tracks for the frame and then a silicon lip graphic is fed into the edging of the frame to complete the display.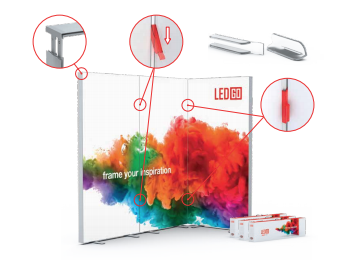 LEDGO Display
The LEDGO product is an ultralight and brilliantly illuminated stand that uses high-quality OSRAM LED technology to give an even and shadow-free illumination. Its LED lights are positioned inside the display, behind the fabric, lighting up your message for everyone to see. Perfect for events and tradeshows, or even conferences and dinners, where you can set up decorative focal points or combine several modules for larger, illuminated displays – both options allow you to create sophisticated mood elements, even in big rooms.
YOUGO Display
The YOUGO display is a non-illuminated display that uses the same high-quality anodized aluminium as the LEDGO system. Not only is it UV resistant but the design and shape are very slim and timelessly elegant. With a meticulous finish, even the edges are pleasant to the touch and the connectors are almost invisible after set-up making it appealing from all angles. These displays provide exhibitors with a quick, easy set up that can be transported in your car or on a plane. This transportability makes them perfect for POS use, sampling and mobile advertising.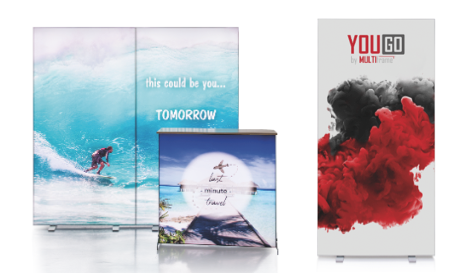 Want more information?
Request a detailed product brochure by contacting us here. We would love to talk you through the options or even give you a demonstration in our Auckland showroom.