However, with increasingly demanding consumers in an increasingly crowded marketplace, that's simply not enough any more. Consumers are demanding more from their favourite brands – they're happy to let brands into their lives but want to be rewarded with unique and special experiences.
With technology helping brands take their consumers on a more interactive and engaging journey, the marketing process has ramped up a notch. And, as the global augmented reality market is expected to grow to a whopping US$117.40 billion by 2022, as per estimates released by MarketResearch.com, immersive experiences are expected to become increasingly powerful.
So we have what marketers and experiential agencies are calling 'the immersive experience'. It's next-level experiential and greys the lines between reality and fantasy. For years, marketers have been delivering compelling customer experiences, but now they add technology and the internet to deliver Virtual Reality and Augmented Reality experiences where the brand takes over the entire customer environment. Print media, television and the internet provide a two-dimensional experience. An immersive experience gives the audience a sense of actual presence, which completely transforms the experience. Consumers become a part of the environment with the ability to react to events they encounter.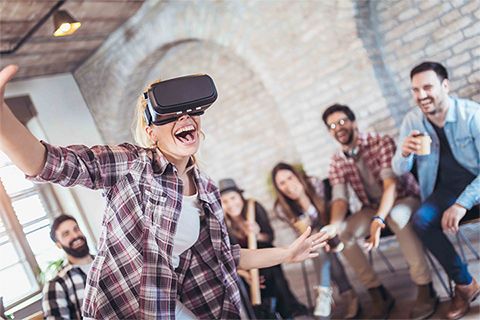 Much of this new focus is fueled by Millennials, who give preference to experiences over products, according to an article in Business.com. They spend money on experience-related purchases. This has driven the experience economy, and brands are increasingly focused on turning ordinary products into experiences so they remain interesting and relevant to a new set of consumers.
Being bombarded with advertisements used to be a way to cut through but people have learned the art of avoiding them. We seem to have developed a 'built-in Adblock', says an article by ScribbleLive. Immersive storytelling offers something novel and lets one develop unique stories and environments to attract and engage prospective customers.
Let's take a look at some recent examples to demonstrate how an immersive experience can be different. 
Mamma Mia! The Party
The world of Mamma Mia! delighted yet another set of viewers over the summer with the release of Here We Go Again. Now, that world has been recreated in none other than London's vast O2 arena. Adapted by Sandy Toksvig, Mamma Mia! The Party invites participants to step into an island paradise, eat top-notch Mediterranean food and listen to live performances of all the best ABBA numbers. It brings the films to life and allows people to actually spend an evening within the movie itself, almost.