Experiential marketing has made it's mark on the industry for a number of years now, and has become an important part of the 'mix'; we're even seeing marketing departments employ experiential managers.  As customers demand more interaction (read: entertainment), the need for a memorable experience becomes essential.
The global brand, Lipton,  has totally embraced experiential with numerous campaigns over the years. The 125-year-old brand has never been one to stand still. It ensures that they make an impact wherever they go, and the 3-month sparkling tea line sampling tour last year was no exception.
The tour visited offices in major cities within the US. The Lipton team set up "The Lipton Sparkling Flavour Lounge" which was an interactive sampling experience offering everything from invigorating back massages and an adult-sized ball pit to an uplifting jam out with the "silent disco". The idea was to encourage employees to break up their daily routines with a light, uplifting afternoon break and get them out of the 2 pm work slump.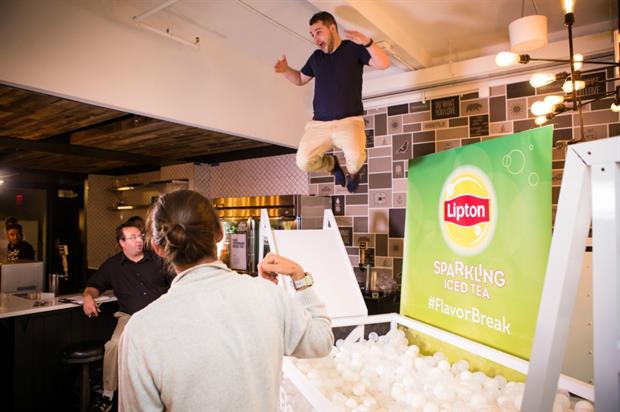 The brand is very consistent in its theming, giving each campaign a fun impactful experience that will be talked about amongst piers for weeks to come.
Lipton's Daybreakers campaign saw the brand pushing for young people to drink iced tea throughout the year and not just on holiday. The campaign set up  'Rise and Slide' events around London consisting of a 100m slip and slide. Fans were encouraged to bring togs and inflatables to the experience The video says it all.
The importance of brand, image and experience are placed front and centre within all Lipton's campaigns. Their experiential events not only give them immediate on-site exposure but clever use of social media that amplifies their efforts across a wider audience for a longer period of time.
If you are interested in using experiential marketing  for your next campaign then contact Rich on 09 930 1811 or email him on rich@brandproductions.co.nz