Supermarket sampling is a fantastic way to gain product trial and sales because it happens right at the point of purchase. Sometimes though it's tricky to target exactly the right kind of people for your brand.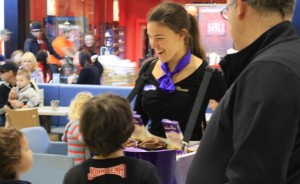 In the old days product sampling consisted of a demo table and a pull-up banner, and that was about it. Now things have become much more sophisticated, as both brands and supermarkets realise that in-store sampling creates an entertaining customer engagement, educates the customer and provides them with added value in-store. In-store sampling stands now feature header cards to optimise visibility, cooking and serving facilities, interactive displays, and various promotions to add interest.
But they are still a passive medium in that they rely on customers to stop and approach the table.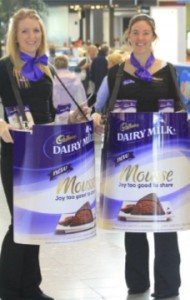 The tables have turned though (excuse the pun!). Supermarkets now allow brands to mobile sample around their stores. This means that demo staff can roam around the store, actively targeting the right kind of customers – both gender and age-specific. The same applies to malls – no longer do demo staff have to stand within a mall booth, they can now move around the mall searching out the perfect target consumer.
Brandstand has been producing vendor or sampling trays for around 5 years now. They come in many shapes and sizes, and indeed many of them are bespoke due to the requirements of the product and the sampling situation.
There are a few key elements though:
The tray will often be quite heavy when fully laden, so it's important that the tray is well balanced and the strapping is sturdy and comfortable to wear. Normally the trays feature web straps that go over each shoulder, as well as sometimes an additional waist strap to support the tray.
The tray needs to stand out despite being a much smaller surface area than a sampling stand/kiosk. Some of our trays feature a skirt to give them a larger front surface on which to advertise. Others feature 3D graphics that really stand out beyond the borders of the tray itself.
The tray will be carrying quite a few sampling essentials including product, cups/plates/napkins etc. It all gets pretty cramped, so we often include a die cut tray that holds various elements in the right place and creates a more appealing, organised look when standing in front of a customer. It also makes life easier for the demo person, who has each element stowed in the right place, and so there's less chance of spillages etc.
Depending on overall weight, sampling requirements, budget and intended lifespan. sampling trays are produced out of durable plastic or cheaper Corflute.
For companies with more complex brand portfolios, we have created generic plastic trays which can be customised for each brand. Simple face strips allow for brands to be interchanged at a moment's notice, plus various insert tray options allow for each brand's sampling requirements.
If you're looking at a sampling campaign for your brand, then talk to us about your options, and make sure you're targeting the right people and getting the optimum conversion to sale you can. We can not only advise you on the best sampling method but also assist in ensuring you have the right sampling staff.