Demo Tables
Demonstration tables, portable counters, promotion stands – whatever you like to call them, Brandstand has a complete range of solutions. We've been supplying them to brands and agencies for the past 20 years, and you'll have seen many examples in supermarkets across the country. Here are 10 facts about our Demo tables that might surprise you: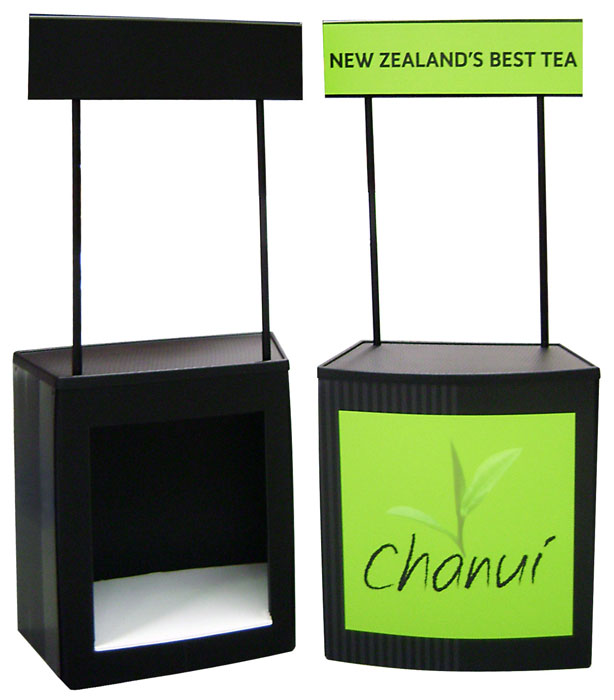 We have over 12 different types of

 

demonstration tables

 

in our standard range, housed in our Auckland Warehouse.
We manufacture bespoke solutions to suit specific campaigns so call us to discuss your requirements and timeframes.
Our most popular demo table is the

 

SuperLight 800, which is used by some of the country's leading sampling companies for some of our most iconic brands.
The SuperLight 800 demo table is our lightest table, weighing in at a mere 7kg which makes it easy for carrying from car to venue, and back again.
It only takes a few minutes to assemble one of our demo tables, meaning more time sampling and less time preparing. Plus, no tools means nothing to get lost!
Tabletops come in a range of options, to suit their purpose. Choose from food-grade melamine, lightweight vacuum-formed plastic or a heat resistant surface.
Our demo tables are designed to fold flat when not in use, making them easy to carry and efficient to store.
Demo tables come with 3 graphics options
A digitally printed laminated graphic, which is mounted to rigid PVC on the front of the table using Velcro for easy interchange.
A full digitally printed laminated graphic wrap, which covers the front and two sides of the table. It is affixed with Velcro, easily interchanged and stores in a tube in the carry bag.
A full-colour lycra sock or fabric graphic for a higher-end longer-term solution
9.   Our tables can be adapted to suit your needs, such as:
Adding a Header Board to create greater impact and provide more premium brand/message space.
Add cable entry caps to the tabletop for electronic items
Produce the tabletop in a custom colour with unique graphics
Add flags to the table to create greater impact
Adjusting the height of the table
Adding extra shelves for storage inside the table
Heat resistant inlay for cooking
10. Need more space than our standard table sizes allow? Simply join a few up and then we'll create a wrap that goes around them all and a top that covers them! Or call us, and we can have a specific size made just for you!