Activating a pop-up store, sampling or experiential campaign in a shopping mall is a well-proven route to getting your brand in front of a broad range of people. Malls offer almost guaranteed foot-traffic numbers, regardless of the weather. The variety of retailers onsite provide instant redemption of offers or bouncebacks for brands wishing to drive awareness, launch products or sample.
At Brandstand, we specialise in helping clients make the most of their "in mall opportunity" and over the years we have developed a special relationship with mall owners, management companies and mall staff.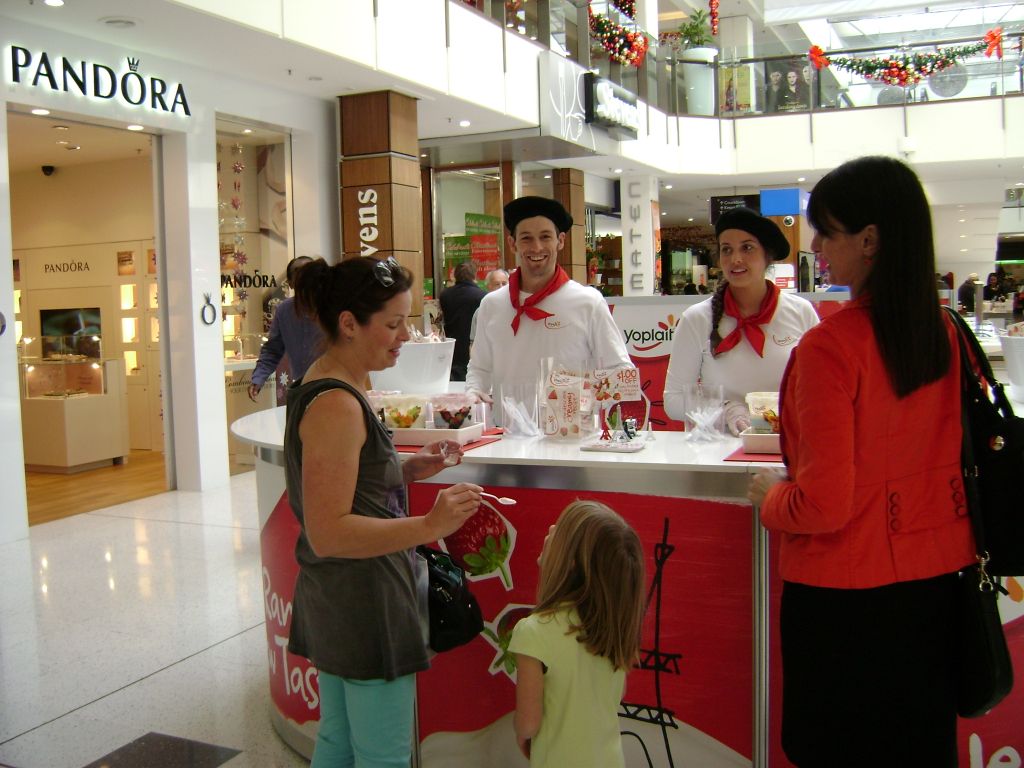 Design and Production
Design and production are key to a successful activation. Malls can be an unforgiving space so your gear needs to be robust.
Often the mall set up is surrounded by stores, their brand signage, their window displays and their lighting. It's a feast on the senses which is hard to avoid, but it means that your activation must stand out. Add to this the height restrictions and display requirements normally in place, and you have a very unique set of circumstances. It's very different from an event, where often the exhibitor can reach higher with their stand.
Location is key and consideration must be given to the sitting of your stand and the customer flows around it. Getting this right comes down to how the stand is designed, liaison with mall staff and an understanding of good 3d design. Depending on your activation you will want to engage with as many people as possible, so how you work with the natural flow of foot traffic can become quite critical to success.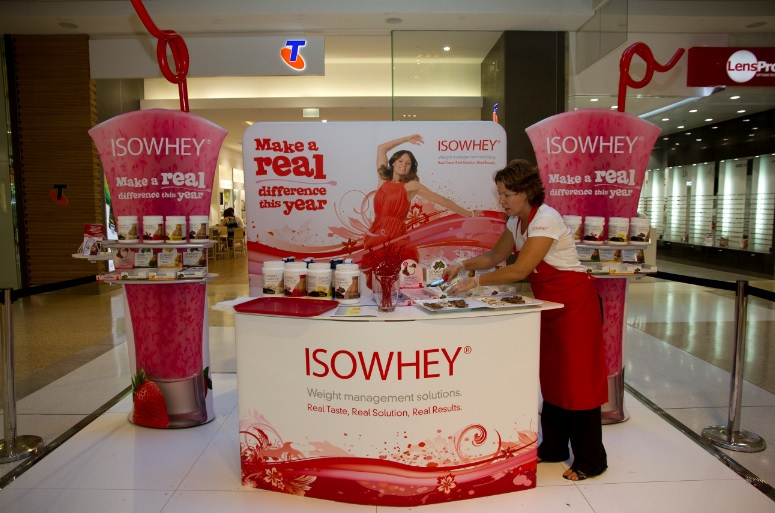 Logistics
You can't just stroll into a mall and set up. Set-up teams need to be authorised and site safe. Approvals need to have been gained and timings are key. Liaison between us, the client and the mall are crucial so that everyone understands what is happening. A professional and well-planned installation not only gets you off to a great start where you can focus on the number one priority – engaging customers!
Functionality
Good design is always achieved when "form follows function" so think about what it is that your activation needs to achieve. Will you be retailing a product, sampling or asking people to stop and sigh up? Ensure that you think of all of the practical requirements be that storage, seating or displays to help you to make the most of your captive audience.
 Staffing
Mall activations can mean long hours on your feet and for some people, it's not easy to maintain your focus and enthusiasm for hours on end. Take time to plan your schedules well allowing for breaks and double-ups of the team when the mall is going to be at its busiest. It's often worth investing in experienced brand ambassadors to work for you rather than just relying on your own staff. Great agency team can be confident product advocates, experienced and flexible, especially on evenings and weekends.
Security
Left unattended, your gear can go walkabout. Yes, there are security guards in the mall, but there are also a LOT of people. Sometimes your stand goes unattended or your staff are distracted.  For this reason you need lockable storage areas within your stand and have a policy for how the stand is left at the end of each day.
Leverage
Create some hype around your activation and be sure to invest in a photographer so that you can leverage the groundswell of enthusiasm and publish to a wider audience through your Social Media pages. Try to persuade the mall to support you in this too, utilising their social media platforms to advertise your activation and support it whilst you are live.
If you need help organising a mall or a sampling campaign then please get in touch