Whether you're launching a product or a service, the idea of a product launch can often be an intimidating and daunting task. There was a time when a company could easily hire a PR agency to craft a press release or set up a press tour – then presto, you could sit back with a martini and watch the hype roll in. Launching a new product was a fairly straightforward thing to do back then. But those days are gone and today's pace of product news and launches has become an all-out warfare of brands fighting for attention! Yes, getting "published" is now A LOT easier but cutting through the frenzy of information – especially online – has become much more challenging than it used to be.
There's a crazy paradox happening here: with a whole lot of options available when launching a product (think direct mail, social channels, online advertising), it's become easier to reach your audience but it's also become harder to make them pay attention!
At Brandstand we've worked with hundreds of companies and have learned from experience. A product launch entails a lot of checklists, and failure to succeed could kill a company. When it's time to open the curtains and unveil your product to the world, it's important to think through the different levels and processes needed to come out strong.
Below are six best practices and tips to help simplify a product launch and keep
you on the right track.
Understand your Goals
Your goals may include gaining new customers or hitting a sales quota – whatever it is, be sure to have a primary objective followed by a secondary beneficial outcome. You can start mapping out your goals by answering your Why's: "Why are we launching this product?" "Why would my target audience want to buy my product?" You can even take this further by following the Five Whys approach, which has its origins in the Toyota Production System. This technique lays out a disciplined approach to effectively testing and evaluating products, features, and ideas – key to maintaining agility in start-up product launches.
Know your Audience
This is a critical stage as this is who your marketing message, channels and promotions will be targeting. You need to figure out the demographics, interests, and behaviour of your target audience. Without this information, you're likely hitting your target market blindfolded – which is the total opposite of what you want to do!
Defining your target audience allows you to hit the bull's eye and authentically connect with your customers plus target them right where they are located! Once you have this in place, you can then plan your marketing accordingly.
Get Customer Feedback Before and During Product Launch
Nothing compares to real feedback from real customers.
Once your product is ready, send your product to customers or influencers – invite them to test it out for feedback and product review. What do they think? What do they like? What do they not like? This is the first step to turning customers into product evangelists. While not every piece of feedback can be immediately acted upon, this can help identify the next steps for your product evaluation and evolution.
There are lots of benefits to this step which include (a) getting critical feedback before your product is launched to a larger audience (b) collecting influential product reviews that you can use later on for your marketing.
Holden, an automobile company, even went as far as paying social influencers to showcase the Cascada model on their Instagram pages, websites and social media channels – all as part of their launch strategy. As a result, Holden's Cascada had the highest brand awareness result of any global auto campaign on Instagram in 2016.
Here's an image used by Holden for their sponsored Instagram campaign. This features Holden's brand ambassador model Alex Pendlebury and the Cascada.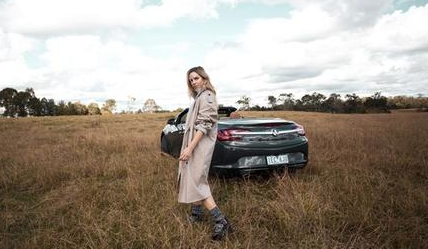 Generate Buzz through Social Media
You're excited about your new product. But are your customers excited?
From a countdown clock to sneak peaks and leaked photos, you can strategically release information about your product in the weeks or days leading up to the launch through social media.
Big brands now plan meticulously for every launch with teaser messaging and partial reveals of products posted on social media channels like Twitter, Facebook, Youtube, Instagram or Pinterest.
This has been true for car manufacturer Nissan. In the release of their new car model, Leaf, Nissan used teaser campaigns "Amazing things are worth waiting for" on their social channels to prepare the market.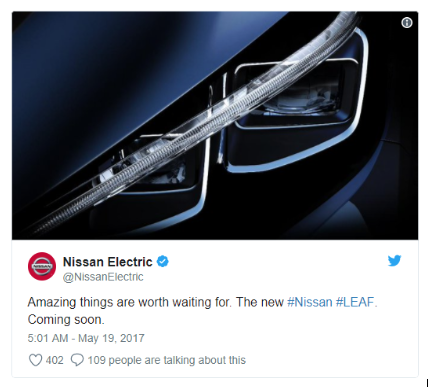 In this sample post from Nissan, the car brand shared a sneak peek of their new car model's headlight on Twitter – it doesn't look much when you look at it, but it's enough to get the audience talking!
Speaking of teasers, another sports car maker, Aston Martin, also used the same strategy when it dropped teaser images online of its new model, Vantage.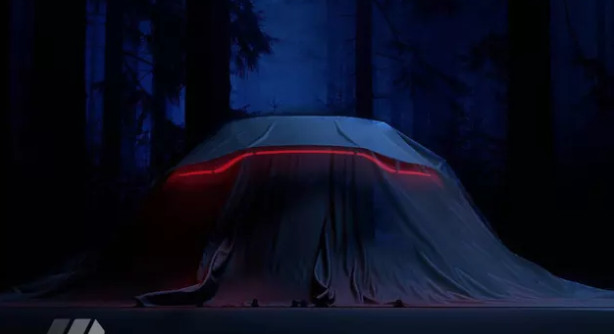 The image they published shows the Vantage under the drapes – which doesn't reveal much except for the striking LED tail-light that fans have been eager to see!
Another notable marketing strategy from Aston Martin is the use of "leaked photos". Spy shots of the Vantage model were circulating the news online even before the car brand dropped its official teaser images. As expected, the strategies implemented drew speculation and excitement from the audience.
Make an event
An event can be in the form of a live social chat, Hangout on Air, live Instagram stories or an actual one which involves speakers and guests. Boost the event and invite influencers for a live demo of the product.
When Tesla launched its Model X in 2015, the brand sent out invitations of the launch and teased everyone with an image of the car having "falcon wing doors" – now that's something!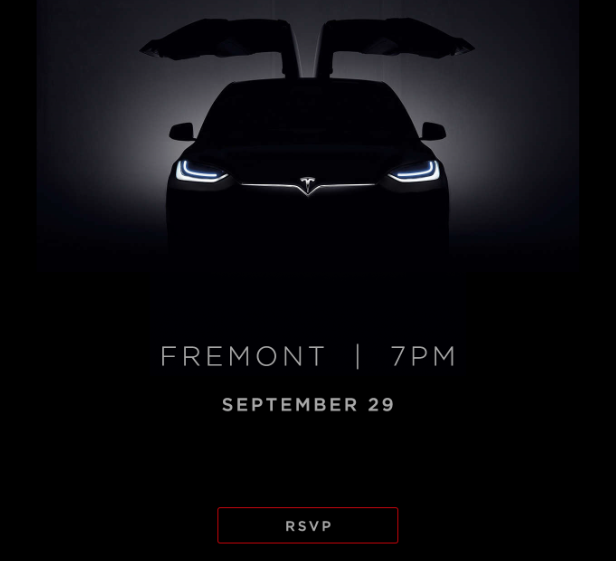 When holding a live event, make sure to have an in-person element to effectively engage the audience. You're bringing to the world the next big thing so be sure to give an audience a reason to go! Go big through creating a one-of-a-kind event experience with stunning displays or designs. Just be sure to have every detail of the event on brand.

In this example, Land Rover set a spectacular show of creativity during its product launch in 2016. The launch made waves not only because of the big reveal itself but because the event features the world's largest Lego structure! Pictured above is a giant LEGO replica of the iconic Tower Bridge. This resulted in an epic, show-stopping event that literally made history! Talk about ingenuity!
If you're looking to set an amazing scene for your next event, we at Brand Productions can help bring your ideas to life! See some of our display and exhibition solutions here. Or talk to us today and let's get the engine revving!
Keep the Momentum Going
A product launch campaign doesn't equate to getting things done in a day. In fact, a successful launch should generate interest and buzz throughout the year with major directional changes based on user feedback. Once your product hits the market, a lot of things are expected to happen – things can even go wrong – in which case a product launch becomes a progress instead of a one-time achievement. New marketing messaging, seasonal and key selling periods provide ample opportunities for a brand to keep people talking about the product.  
Evaluate results, keep creating content, work with influencers and press, and continuously engage with customers – these are the ingredients to keep your product hot and fresh even long after it has launched!
Keep Testing
The Bottom Line: effective planning and management is the key to product launch success. It's never easy but when done right, it's a pretty exciting and fun experience!
What steps have you taken to launch your products? Learn more about Brandstand and how we can help with any display and exhibition solutions for your product launch. Contact us here. We'd be happy to answers questions and talk you through different products, ideas and case studies.