Getting more bang for your sponsorship buck
Making the most of sponsorship opportunities can sometimes be tricky. Once the negotiations are complete and the legal details ironed out, it can be hard to then make the relationship work commercially, for the benefit of both parties.
As sponsors of Emirates Team New Zealand, Panasonic was keen to explore opportunities and came to us for help with their concept.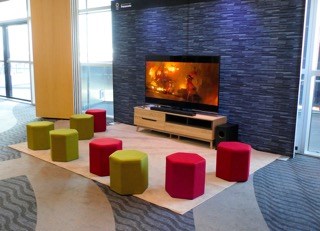 Each year Panasonic host a Showcase event where they display all their products to key trade customers. It's an opportunity to launch new products, a great way to network with retail partners and a perfect opportunity to highlight what a great brand should stand for. For their event in March 2020, Brandstand had the opportunity to highlight how an international brand can support a local team.
We created a range different zones within the Emirates Team New Zealand base, displaying the following product categories: kitchen appliances, microwaves, washers/ dryers, ovens, TV's, hoovers, headphones, and personal hygiene - each area having a bespoke display, setting and theme.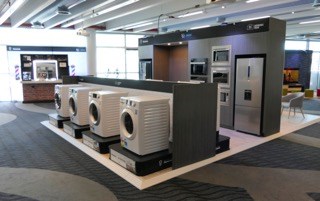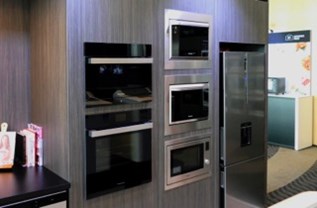 The event represents a huge opportunity for Panasonic to engage with the key customers and get them excited about the new product ranges. It's the perfect opportunity to build enthusiasm and interest which then turns into sales within each retail chain. Key customers included JB Hifi, Noel Leeming, Harvey Norman, Smiths City, Heathcotes.

To further emphasise the sponsorship opportunity and offer up a unique experience for many, the Showcase event included a guided tour of the Emirates Team New Zealand Boatshed along with the chance to meet some of the team and those working on the boat.

Brandstand & Brand Productions designed, produced & installed all of the displays. Each designed with future use in mind, they were built to be flexible and to be used across a range smaller events, product launches and training sessions over the course of the year ahead.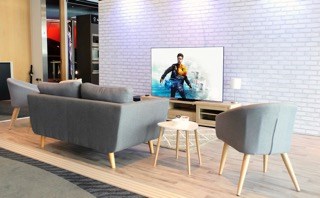 Take a look for yourself.
Take a look at the images here, from the event, and if you feel we might be able to help you lift your sponsorship opportunities this year then give Rich a call - 0800 10 99 88
Did you know?
WE RUN TRANS-TASMAN CAMPAIGNS
We work with our sister company in Sydney to deliver truly Trans Tasman campaigns. The combined team will take care of all the production,  project management and logistics in both New Zealand and Australia, ensuring your budget is optimised and your stress levels are reduced!