Acoustic Desk Screens
Partitions with sound-absorbing qualities which easily mount onto your desk to separate workspaces, reduce noise distraction and create privacy. These sleek lightweight screens are available in a range of sizes for different desk options: 400mm high x 1200mm, 1500mm & 1800mm wide. The 1200 & 1500mm comes with 2 clamps while the 1800mm screen comes with 3!
Add more style to your workplace and choose from our 7 different colour options. A great solution for open-plan workspaces!
(Please note: 10 Day Leadtime)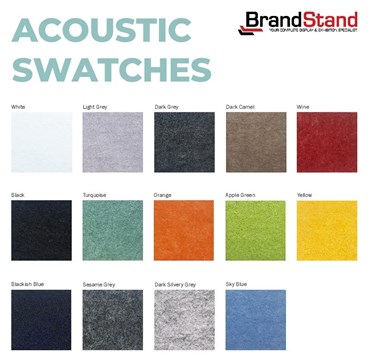 ***FOR A LIMITED TIME, ALL ONLINE ORDERS OVER $200 RECEIVE FREE FREIGHT NATIONWIDE
Enquire Now
Please complete the form below to enquire further about this product. One of our sales Specialists will come back to you within 24 hours with further information or call you with any questions that might help us give you the best solution.
Did you know?
WE RUN TRANS-TASMAN CAMPAIGNS
We work with our sister company in Sydney to deliver truly Trans Tasman campaigns. The combined team will take care of all the production,  project management and logistics in both New Zealand and Australia, ensuring your budget is optimised and your stress levels are reduced!