Servicenow Exhibition Stand
ServiceNow are a cloud computing company founded in 2004 and recently topped the Forbes list of the world's most innovative companies. They were a headline sponsor at the CIO summit in Auckland this year and needed a fresh approach to tie in with their rebrand. They came to us with clear ideas and wanted to stand out, make an impact and have that wow factor when delegates entered the exhibition hall.
Challenge
The main challenge was that they wanted their exhibition stand to be different. It needed to be an open space that delegates could walk around easily but also have room for demonstrations and informal discussions. The space had to be inviting with a light and airy feel along with a fresh natural look. It was also important to have an interactive element running through the whole stand with large screen TVs and kiosks.
The Solution
We created a stand that had a Scandinavian feel to it, using light-coloured timber panelling and white furniture. The use of greenery hanging from the huge sky banner was very effective, and the living wall gave the stand a natural feel, tying in with the green in the logo.
It was important that people were drawn into the space and what better way to do this than to give away free Barista made coffee right there on the stand. This idea was incorporated into the front of the stand with a large work surface and bench custom made for the coffee machine. The whole process worked extremely well giving the staff on the stand opportunities to chat with delegates as they waited for their coffee.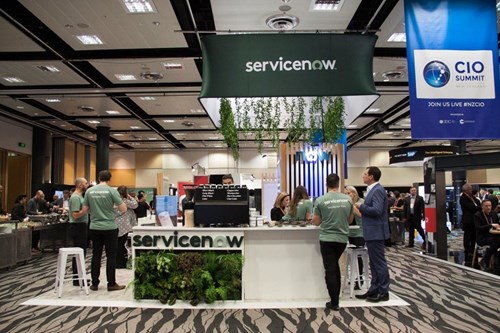 There were also several screens, whiteboards and an interactive kiosk placed around the stand which gave staff the opportunity to present to delegates, and for them to learn more about the service. The 55 inch interactive kiosk built into the stand highlighted ServiceNow's featured experiences and business apps.
To tie all this together, and to give maximum effect to the brand, we created 'ServiceNow' cutouts for the stand and used spotlights to highlight them around the central column, making them even more of a feature.
"Brandproductions were great to work with. Rich, Kate and the team were speedy in their responses and went above and beyond to make sure our booth was flawless. They really listened to our needs and delivered a fresh, original design which absolutely shined on the expo floor!"

Jessie Harris - ServiceNow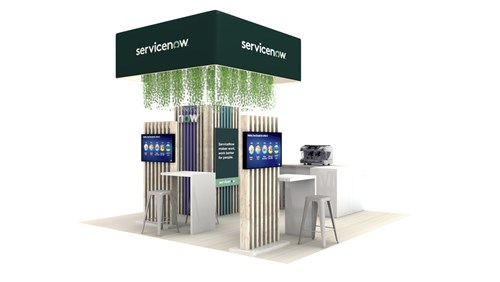 Concept plans presented to client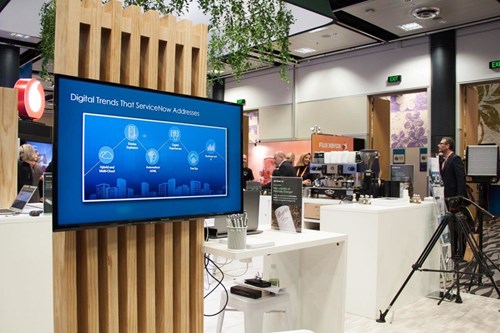 Screens and Kiosks were used around the stand.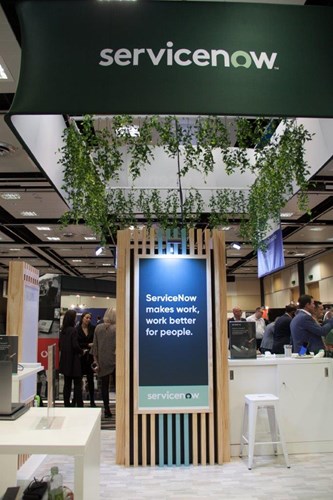 Clear messaging and a large sky banner created the right impression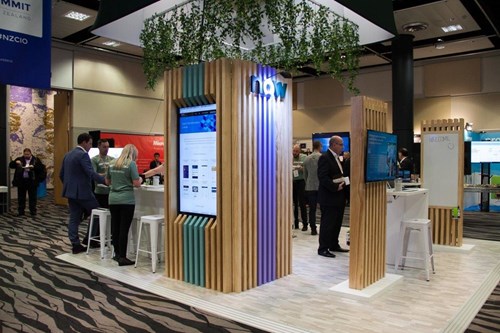 Touchscreen Interactive Kiosks were built into the design
Did you know?
WE RUN TRANS-TASMAN CAMPAIGNS
We work with our sister company in Sydney to deliver truly Trans Tasman campaigns. The combined team will take care of all the production,  project management and logistics in both New Zealand and Australia, ensuring your budget is optimised and your stress levels are reduced!